Makaibari Silver Green - 100 grams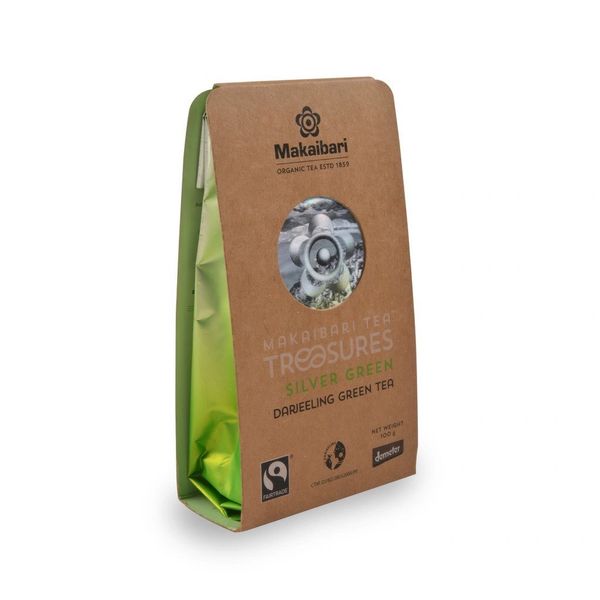 Makaibari Silver Green - 100 grams
EACH PACK CONTAINS 100GM OF SILVER GREEN TIPS FROM GARDENS OF MAKAIBARI TEA ESTATE.
The unique soil of makaibari tea estate produce the best darjeeling teas in the world.makaibari is situated at 3000ft above sea level at kurseong darjeeling district of westbengal india,HOW TO PREPARE- using a clean dry spoon transfer the tea leaves to a clean airtight container immediately after opening the packet,prepare a teapot by washing it with hot watermeasure one tea spoon of tea leaves for each cup & place in the tea pot.bring fresh water to a boil. do not overboil or reboil the water as soon as it start to boil pour in to tea pot. let it brew for 4 minutes and then stir with a clean spoon pour the tea into a cup, allow it to cool slightly and enjoy.milk & sugar maybe added but not recommended
 Green tea is rich in bioflavanoids, contains a large amount of anti-oxidants. These are molecules that prevent further formation of free radicals present in the human body and also help in neutralising them. These free radicals are harmful because they cause damage to our cellular structure due to oxidation. These free radicals become excessive due to various factors like smoking, pollution, exposure to sunlight, absorption of pesticides etc. This in turn may cause serious deseases like cancer and cardiac disorders. Green tea contains anti-oxidants even more than apples, oranges, grapestea is highly beneficial for health such as:
Lowers blood pressure and cholesterol levels. Prevents heart attacks and expedites recovery after an attack.

Digestion, colitis and stomach ulcers.

Prevents and helps in osteo arthiritis.

Sore throat and voice.

Burns fat and increases metabolism to reduce body weight and increase endurance.

Cancers-breast, cervical, duodenal, esophageal-lowers risk and helps in retarding growth.

Diabetes-helps in regulating sugar.
At Makaibari we believe that all positive impulses on this planet emanate from the "soil", and it's the ground where we are deeply rooted. With 1,100 acres of primary rainforest, and approximately 550 acres in their midst of tea, Makaibari is one of the largest tea estates in Darjeeling. The four hundred species of indigenous birds, a plethora of wild animals, the unique insects that are found nowhere else on earth, are our pride and joy. We go about our day to day business, worshipping the humble tea bush, our God and our Giver.
Our renewed website is homage to all the tea lovers and the tea bush, the magical mystical plant brought to these slopes of Himalaya 170 years ago, changing forever the Darjeeling landscape, her economy and society.
The departure of the British at independence, coupled with dramatic technological advancement have compounded the challenges faced by the fragile Darjeeling ecosystem and her multiracial ethnic communities.
Makaibari had steadfastly weathered these multifaceted challenges  by her sustainable 'karma', that has been upheld by her 'Dharma' of holistic PARTNERSHIP not OWNERSHIP at all levels.
Join us now on our voyage that has transformed the region and how it continues to fuel our dreams and hopes.