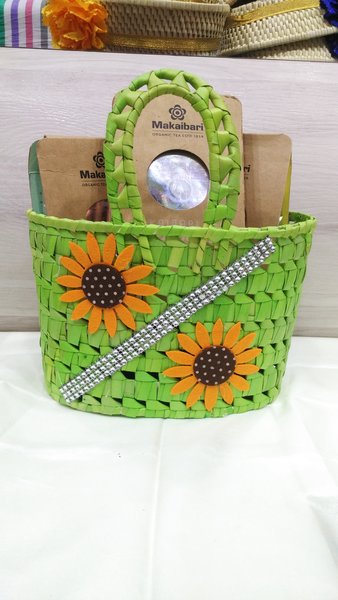 MAKAIBARI GIFT PACK
THIS GIFT PACK CONTAINS THE FOLLOWING TEAS:-
1)100GM OF Makaibari Darjoolong Oolong Tea DIRECTLY SOURCED FROM THE GARDENS OF MAKAIBARI TEA ESTATES.
2)100GM OF MAKAIBARI TREASURES FIRST FLUSH DIRECTLY SOURCED FROM THE GARDENS OF MAKAIBARI TEA ESTATES.
3)25GM OF MAKAIBARI WHITE TEA DIRECTLY SOURCED FROM THE GARDENS OF MAKAIBARI TEA ESTATES.
PACKED IN VERY BEAUTIFUL HANDMADE GIFTS PACKS.
Oolong tea is a product made from the leaves, buds, and stems of the Camellia sinensis plant. This is the same plant that is also used to make black tea and green tea. The difference is in the processing. Oolong tea is partially fermented, black tea is fully fermented, and green tea is unfermented.

Oolong tea is used to sharpen thinking skills and improve mental alertness. It is also used to prevent cancer, tooth decay, osteoporosis, and heart disease.

Some people use oolong tea to treat obesity, diabetes, "hardening of the arteries" (atherosclerosis), high cholesterol and skinallergies such as eczema; and to boost the immune system.


How does it work?
Oolong tea contains caffeine. Caffeine works by stimulating the central nervous system (CNS), heart, and muscles. Oolong tea also contains theophylline and theobromine, which are chemicals similar to caffeine.
The unique soil of makaibari tea estate produce the best darjeeling teas in the world.makaibari is situated at 3000ft above sea level at kurseong darjeeling district of westbengal india,HOW TO PREPARE- using a clean dry spoon transfer the tea leaves to a clean airtight container immediately after opening the packet,prepare a teapot by washing it with hot watermeasure one tea spoon of tea leaves for each cup & place in the tea pot.bring fresh water to a boil. do not overboil or reboil the water as soon as it start to boil pour in to tea pot. let it brew for 4 minutes and then stir with a clean spoon pour the tea into a cup, allow it to cool slightly and enjoy.milk & sugar maybe added but not recommended
At Makaibari we believe that all positive impulses on this planet emanate from the "soil", and it's the ground where we are deeply rooted. With 1,100 acres of primary rainforest, and approximately 550 acres in their midst of tea, Makaibari is one of the largest tea estates in Darjeeling. The four hundred species of indigenous birds, a plethora of wild animals, the unique insects that are found nowhere else on earth, are our pride and joy. We go about our day to day business, worshipping the humble tea bush, our God and our Giver.
Our renewed website is homage to all the tea lovers and the tea bush, the magical mystical plant brought to these slopes of Himalaya 170 years ago, changing forever the Darjeeling landscape, her economy and society.
The departure of the British at independence, coupled with dramatic technological advancement have compounded the challenges faced by the fragile Darjeeling ecosystem and her multiracial ethnic communities.
Makaibari had steadfastly weathered these multifaceted challenges by her sustainable 'karma', that has been upheld by her 'Dharma' of holistic PARTNERSHIP not OWNERSHIP at all levels.
Join us now on our voyage that has transformed the region and how it continues to fuel our dreams and hopes.
White Tea is derived from the first flush buds of the tea bush. It isn't rolled first but is immediately fired so there is no withering or fermentation/oxidation. Availability is limited and the cost high as a result of the limitations of the plucking standard. There is no rolling, breaking, or bruising of any kind. The name refers to the silver-colored (white) hairs on the picked tea bud. The liquor of White Tea is very pale in color, and mild tasting in the cup, reminiscent of Magnolia.

Reviews
Featured Products