MAINAK HILL GREEN TEA BAGS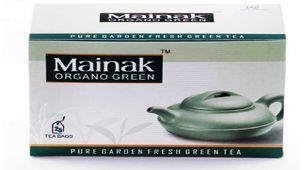 MAINAK HILL GREEN TEA BAGS
THIS PACK CONTAINS 25PC TEA BAGS OF FINEST GREEN TEA FROM GARDENS OF MAINAK HILL
MAINAK Green tea is rich in bioflavanoids, contains a large amount of anti-oxidants. These are molecules that prevent further formation of free radicals present in the human body and also help in neutralising them. These free radicals are harmful because they cause damage to our cellular structure due to oxidation. These free radicals become excessive due to various factors like smoking, pollution, exposure to sunlight, absorption of pesticides etc. This in turn may cause serious deseases like cancer and cardiac disorders. Green tea contains anti-oxidants even more than apples, oranges, grapes,spinach and garlic, is also anti-bacterial, anti viral and boosts immunity. Consuming green tea is highly beneficial for health such as:
Lowers blood pressure and cholesterol levels. Prevents heart attacks and expedites recovery after an attack.

Digestion, colitis and stomach ulcers.

Prevents and helps in osteo arthiritis.

Sore throat and voice.

Burns fat and increases metabolism to reduce body weight and increase endurance.

Cancers-breast, cervical, duodenal, esophageal-lowers risk and helps in retarding growth.

Diabetes-helps in regulating sugar.
Mainak' Green Tea Is Manufactured At Mainak Hills Tea Estate, Located At The Foothills Of The Famous Darjeeling Hills In North Bengal.